JOIN US AT GRAMMER AMERICAS
WITH YOUR SKILLS & OUR W.O.W CULTURE, YOUR CAREER PATH LOOKS BRIGHTER THAN EVER
GRAMMER Americas is building SOLUTIONS FOR A WORLD ON THE MOVE. This is where energetic new team members can come to learn, grow, and expand on their professional passions, have a seat at the table, make an impact, and write their own ticket within the company, taking control of their career.

GRAMMER is a global automotive and commercial vehicle company headquartered in Germany with two active business segments: 1) high-quality interior and operating systems and 2) innovative thermoplastic components. For trucks, traing, buses, and off-road vehicles, GRAMMER Americas is a full-service provider of driver and passenger seats.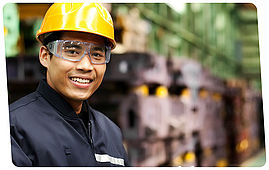 ---
---
WHAT DOES GRAMMER AMERICAS DO?
GRAMMER Americas is an automotive and commercial vehicle company with two active business segments:

1. High-quality interior and operating systems
2. Innovative thermoplastic components

COMMERCIAL VEHICLES

GRAMMER is the global leader in seats for offroad vehicles like tractors, skid steer loaders, zero turn mowers, and forklifts, Additionally, it is among the top producers of truck, bus, and train seats.

AUTOMOTIVE

GRAMMER's headrests, consoles, and interior components impress with their design, functionality, safety and comfort, setting standard in international markets.
---
OPPORTUNITIES FOR GROWTH AT GRAMMER AMERICAS
We develop innovations and solutions with passion, personal commitment, and global know-how. The end result is in our product, which accompanies millions of people safely and more comfortably throughout the mobile world. It is always our aim to provide space for new ideas, and in order to allow for this, we know we need to actively provide opportunities for personal development and fulfillment for each of our team members.

Because of these company values, we offer many training and development initiatives for all areas and career levels, empowering our employees to enjoy their work. Whether you are just starting out, or you are an experienced professional with a skilled background, you can become a part of GRAMMER Americas' pledge to offer future-oriented products and solutions that set benchmarks across the globe.
---
WHERE IN THE WORLD IS GRAMMER?
LOCAL FEEL WITH GLOBAL IMPACT
GRAMMER Americas has jobs all over North and South America (see locations below), but our team members play an important role in the global picture. Certain roles within the company offer opportunities to travel abroad or work with team members from around the globe. As a company specializing in mobility, you'll find our team is active and ready to move, whether we are collaborating across state lines or across oceans.
GRAMMER AMERICAS LOCATIONS
United States

Beloit (WI)
Bowling Green (OH)
Delphos (OH)
Fayetteville (TN)
Hudson (WI)
Plymouth (MI)
Tiffin (OH)
Tupelo (MS)
Troy (MI)
Toledo (OH)

Mexico

Celeya
Queretaro
Tetla

Argentina

San Martin

Brazil

Sao Paulo
Diversity Statement:
GRAMMER Americas is committed to diversity in the workplace and draws upon the strength of the diversity in our employees. GRAMMER Americas is committed to equal opportunity in recruiting, employment, compensation, training, transfers, promotions and all other aspects of employment.